Movie Results For: Paterson
The Witches (1990)
Starring: Anjelica Huston, Mai Zetterling, Jasen Fisher
Comfort and Joy (1984)
Starring: Bill Paterson,Eleanor David,C.P. Grogan,Clare Grogan,Alex Norton
Paterson (2016)
Starring: Adam Driver, Golshifteh Farahani, Kara Hayward
Paterson is a bus driver in the city of Paterson, New Jersey--they share the name. Every day, Paterson adheres to a simple routine: he drives his daily route, observing the city as it drifts across his windshield and overhearing fragments of conversation swirling around him; he writes poetry into a notebook; he walks his dog; he stops in a bar and drinks exactly one beer; he goes home to his wife, Laura. By contrast, Laura's world is ever changing. New dreams come to her almost daily. Paterson loves Laura and she loves him. He supports her newfound ambitions; she champions his gift for poetry. The film quietly observes the triumphs and defeats of daily life, along with the poetry evident in its smallest details.
Truly Madly Deeply (1991)
Starring: Juliet Stevenson, Alan Rickman, Bill Paterson
Truly, Madly, Deeply (1991)
Starring: Juliet Stevenson,Alan Rickman,Bill Paterson,Michael Maloney,Christopher Rozycki
Miss Potter (2007)
Starring: Renee Zellweger, Ewan McGregor, Emily Watson
Miss Potter (2007)
Starring: Renee Zellweger,Ewan McGregor,Emily Watson,Bill Paterson,Barbara Flynn
On the Beach (2006)
Starring: Armand Assante,Bryan Brown,Rachel Ward,Mark Pennell,David Paterson
The Rachel Papers (1989)
Starring: Dexter Fletcher, Ione Skye, Jonathan Pryce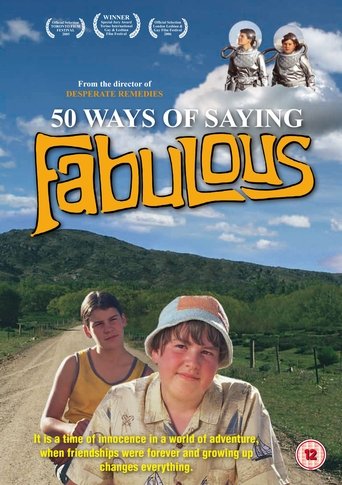 50 Ways of Saying Fabulous (2006)
Starring: Andrew Patterson,Andrew Paterson,Jay Collins,Michael Dorman,Rima Te Wiata
Buried (2010)
Starring: Ryan Reynolds, Ivana Mino, Jose Luis Garcia-Perez
A man is caught in a desperate race against time in this claustrophobic thriller from director Rodrigo Cortes. Paul Conroy (Ryan Reynolds) is an American truck driver who has been contracted to work in Iraq, and while delivering a load of kitchen equipment as part of a humanitarian aid program, he's captured by insurgent guerrillas who intend to hold him hostage. Paul is struck unconscious, put into a coffin-like box, and buried, and when he comes to, all he has to help him get out is a lighter and a cell phone. Trapped underground with a limited supply of air, Paul frantically calls his family, his employer, and American military and political representatives, trying to remain calm as his chances of survival slip farther away with each passing minute. Featuring the voice talent of Robert Paterson, Stephen Tobolowsky, Samantha Mathis, and Erik Palladino, with all the action taking place within the underground box, Buried received its world premiere at the 2010 Sundance Film Festival. ~ Mark Deming, Rovi
Dream House (2011)
Starring: Daniel Craig, Rachel Weisz, Naomi Watts
Successful publisher Will Atenton (Daniel Craig) quit a job in New York City to relocate his wife, Libby (Rachel Weisz), and two girls to a quaint New England town. But as they settle into their new life, they discover their perfect home was the murder scene of a mother and her children. And the entire city believes it was at the hands of the husband who survived. When Will investigates the tragedy, his only lead comes from Ann Paterson (Naomi Watts), a neighbor who was close to the family that died. As Will and Ann piece together the disturbing puzzle, they discover that the story of the last man to leave Will's dream house will be just as horrifying to the one who came next. -- (C) Universal Pictures
Crush (2010)
Starring: Andie MacDowell,Imelda Staunton,Anna Chancellor,Kenny Doughty,Bill Paterson
A woman edging into middle age finally finds the love of a lifetime; too bad she can't convince her best friends it's for real in this lively romantic comedy. Kate (Andie MacDowell), Molly (Anna Chancellor), and Janine (Imelda Staunton) are three close friends in their early forties who have been sharing a long run of bad luck in the field of romance. While all three are successful in their careers -- Kate has been named headmistress of an upscale private school, Molly is a doctor, and Janine's a police detective -- they've been striking out in the dating scene, and they get together on a regular basis to compare notes and drown their sorrows in cocktails and chocolate. One day, while attending the funeral of a colleague, Kate makes the acquaintance of Jed (Kenny Doughty), a good-looking man who remembers Kate as one of his teachers when he attended the school years ago. Despite the decade-and-a-half gap in their ages, there's a strong mutual attraction between Kate and Jed, and before the day is over the two are enjoying an affair. Molly and Janine are at once amused and appalled at Kate for dating a younger man, and while she tells them it's a short-lived fling that means little to either party, neither Kate nor Jed wants to walk away from their relationship; before long Kate and Jed decide they've fallen in love and plan to get married. The harder Molly and Janine try to convince Kate that she's making a mistake, the more Kate is determined to tie the knot with Jed, and eventually Molly and Janine decide to take drastic measures -- Molly hatches a plan to seduce Jed, while Janine captures their tryst on videotape. ~ Mark Deming, Rovi
The Man who Crossed Hitler (2015)
Starring: Ed Stoppard,Ian Hart,Bill Paterson,Sarah Smart,Anton Lesser
In November 1930 brown-shirted storm troopers of Hitler's SA break into the Communist Eden Palace club,killing several members. Jewish lawyer Hans Litten prosecutes them and,at the suggestion of his boss Rudolf Olden,agrees to sub-poena Hitler,who had supposedly renounced violence yet who clearly supported the SA, to discredit him as a popular figure. Against the advice of his assistant Margot Furst Hans prepares his case,even involving Stennes, a rival Nazi to Hitler. At the trial Hans,the practised lawyer,runs rings round Hitler,who is frequently unable to answer his questions. The Brown Shirts are convicted but it is a Pyrrhic victory for two years later Hitler will become chancellor,Hans will be arrested and he will die in Dachau concentration camp.
Julius Caesar (2012)
Starring: Segun Akingbola,Adjoa Andoh,Mark Ebulue,Ray Fearon
A fast-moving thriller about a struggle for democracy, William Shakespeare's Julius Caesar is also a love story between two men united by an explosive act of political violence. Based on the Royal Shakespeare Company's acclaimed stage production, Gregory Doran's film for BBC Television sets the action in post-independence Africa. With echos of the recent overthrow of dictators during the 'Arab Spring', the production explores the implications of political assassination and the unpredictability of its aftermath. Shot on location and also in the Royal Shakespeare's theatre at Stratford-upon-Avon, Julius Caesar is a sumptuous film that features the original cast of a startling and arresting production. Actors include Paterson Joseph as Brutus, Jeffry Kissoon as Caesar, Cyril Nri as Cassius, and Ray Fearon as Mark Antony. In addition, the DVD includes The Making of Julius Caesar documentary with interviews with key cast and crew.