Movie Results For: against+the+ropes
On the Ropes (1999)
Starring: Harry Keitt,Tyrene Manson,George Walton,Noel Santiago,Mickey Marcello
The Plot Against Harry (1989)
Starring: Martin Priest,Ben Lang,Henry Nemo,Stephen Cheng,Christopher Cross
The Plot Against Harry (1989)
Starring: Martin Priest,Ben Lang,Maxine Woods,Henry Nemo,Joan Leslie
Juve contre Fantomas (Juve Against Fantomas) (1913)
Starring: Rene Navarre, Georges Melchior, Renee Carl
The Case Against 8 (2014)
Starring: Ted Olson,David Boies,Chad Griffin,Kris Perry,Sandy Stier
Five years in the making, THE CASE AGAINST 8 takes a riveting inside look at the groundbreaking Supreme Court case that overturned Proposition 8, California's ban on same-sex marriage. With exclusive behind-the-scenes footage of both the powerhouse legal team of David Boies and Ted Olson and the four plaintiffs in the suit, THE CASE AGAINST 8 is a powerful emotional account of the journey that took the fight for marriage equality all the way to the U.S. Supreme Court. (c) HBO
The Case Against 8 (2014)
Starring: Ted Olson, David Boies
Five years in the making, THE CASE AGAINST 8 takes a riveting inside look at the groundbreaking Supreme Court case that overturned Proposition 8, California's ban on same-sex marriage. With exclusive behind-the-scenes footage of both the powerhouse legal team of David Boies and Ted Olson and the four plaintiffs in the suit, THE CASE AGAINST 8 is a powerful emotional account of the journey that took the fight for marriage equality all the way to the U.S. Supreme Court. (c) HBO
Sieranevada (2016)
Starring: Mimi Branescu, Mirela Apostu, Eugenia Bosanceanu
Follows a family gathering three days after the attack against Charlie Hebdo and forty days after the death of a close family member.
Inside Llewyn Davis (2013)
Starring: Oscar Isaac, Carey Mulligan, John Goodman
INSIDE LLEWYN DAVIS follows a week in the life of a young folk singer as he navigates the Greenwich Village folk scene of 1961. Guitar in tow, huddled against the unforgiving New York winter, he is struggling to make it as a musician against seemingly insurmountable obstacles-some of them of his own making. (c) CBS
Post Mortem (2012)
Starring: Alfredo Castro,Antonia Zegers,Jaime Vadell,Amparo Noguera,Marcelo Alonso
Pablo Larrain's follow-up to Tony Manero is another unnerving look at one man's psychosis set against a country's political and moral turmoil -- here, a lonely morgue clerk whose infatuation with the burlesque dancer next door plays out against the violent chaos of Chile's 1973 military coup. -- (C) Kino Lorber
Quality of Life (Against The Wall) (2006)
Starring: Lane Garrison, Brian Burnam, Mackenzie Firgens
Quality of Life (Against The Wall) (2006)
Starring: Lane Garrison,Brian Burnam,Mackenzie Firgens,Luis Saguar,Fred Pitts
From The Ashes (2011)
Starring: Tom Hardy,Sir Ian Botham,Dennis Lillie,David Gower,Mike Brearley
Covering the story of English cricket's greatest ever comeback, "From The Ashes follows" the famous 1981 Ashes series, known to many as 'Botham's Ashes', where cricketing legend Sir Ian Botham stole the show and brought England Ashes glory against all the odds.
Seul Contre Tous (I Stand Alone) (One Against All) (1998)
Starring: Philippe Nahon, Martine Audrain, Frankye Pain
Top Spin (2015)
Starring: Ariel Hsing,Michael Landers,Lily Zhang,Michael Hsing,Xinhua Jiang
Set against the backdrop of one of the most under-appreciated sports in America, three teenagers battle their way through the world of competitive ping pong. While facing the unusual challenges coming of age in a niche sport, their journey reveals the passion it takes to pursue their Olympic-sized dreams.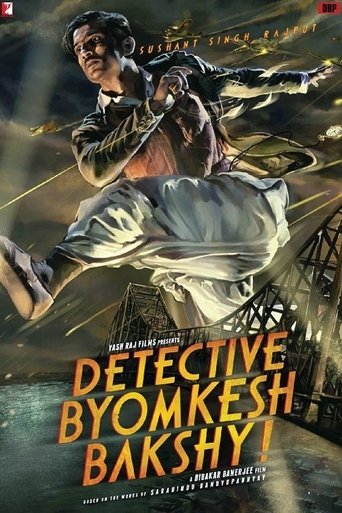 Detective Byomkesh Bakshy (2015)
Starring: Sushant Singh Rajput, Anand Tiwari, Swastika Mukherjee
In a contemporary interpretation of war torn Calcutta during the 1940's, the film follows the first adventure of Byomkesh (Sushant Singh Rajput), fresh out of college, as he pits himself against an evil genius who is out to destroy the world. It's his wits against the most villainous arch criminal the world has seen, in a world of murder, international political intrigue and seduction. (C) Official Facebook