Movie Results For: all+about+love
It's All About Love (2003)
Starring: Joaquin Phoenix, Claire Danes, Sean Penn, Douglas Henshall, Alun Armstrong, Margo Martindale, Mark Strong
The story of two lovers and their attempts to save their relationship in a near-future world on the brink of cosmic collapse. John, and world-famous ice skating star, Elena, are about to sign divorce papers when they realise that, in spite of everything happening around them, their love is worth fighting for. It's All About Love is a fresh take on modern love and future life as two lovers struggle in a conspiracy of epic proportions.
All About Love (2005)
Starring: Andy Lau,Charlie Yeung,Charlene Choi,Amber Xu,Cheung Tung Jo
All About Love (2010)
Starring: Sandra Ng Kwun-Yu, Vivian Chow, William Chan Wai-Ting, Eddie Cheung Siu-Fai
After being separated for years, former lovers Macy (Sandra Ng) and Anita (Vivian Chow) are reunited at a pregnancy seminar. After sharing the accidental circumstances that led to their respective pregnancies, the two fall back in love. However, to add to the trouble caused by the fathers of their babies (Eddie Cheung and William Chan), Anita also finds herself the victim of gender discrimination at work due to her pregnancy. Will Macy and Anita make it through the obstacles in the way of their reunion, and what roles will the two to-be-fathers end up playing in the women's lives?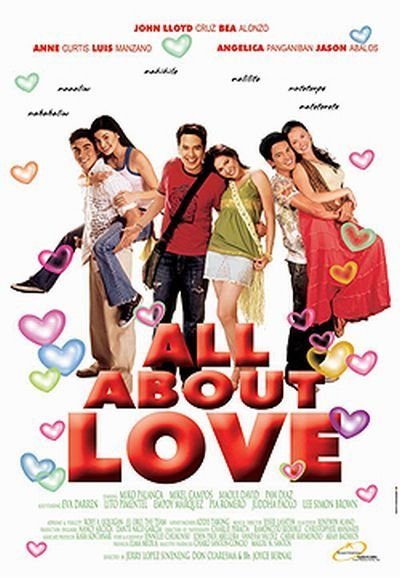 All About Love (2006)
Starring: John Lloyd Cruz, Bea Alonzo, Anne Curtis, Luis Manzano, Jason Abalos, Angelica Panganiban, Gina Alajar, Jackie Lou Blanco, Jean Garcia, Lito Pimentel, Empoy Marquez, Mico Palanca, Maoui David, Yassi Pressman, Neil Ryan Sese, Paw Diaz, Kat Alano, Johnny Revilla, Pia Romero, Joem Bascon
Kikay and Kiko grew up together in the province and built a strong friendship. But Kikay has to leave her best friend to live and study in Manila. She tries to fit in her new environment in the city but she ends up being abused by the people she thought as her new friends. Kikay returns to the province with a wounded self-esteem. There, she realizes how much Kiko loves her. Feeling unworthy of his love, Kikay drives Kiko away. But will she ever find the courage to come face to face with her own problems and admit her love for him?
All About Love (2001)
Starring: Virginie Ledoyen, Stomy Bugsy, Bruno Putzulu, Jean-Marc Thibault, Brigitte Roüan, Jean-François Gallotte, Anne Canovas, Jean-Paul Bonnaire, Yazid Aït, Jean-François Stévenin
Maria is a bright and attractive but not especially responsible young woman who is used to having things go her way in life. Out of school and with no clear career path, Maria ends up taking a job putting together cushions for chairs. But after a single day on the job she quits, claiming the work hurts her hands and she'd rather start her own restaurant. As Maria plots her next move, she impulsively swipes a piece of lingerie from a store, then tries to lie her way out of the situation when she's caught. But Maria finds that words can't get her out of this bind, and soon she's in jail and dealing with much deeper trouble than she ever imagined possible.
About Adam (2000)
Starring: Stuart Townsend,Frances O'Connor,Charlotte Bradley,Kate Hudson,Alan Maher