Movie Results For: as+good+as+it+gets
As Good as It Gets (1997)
Starring: Jack Nicholson, Helen Hunt, Greg Kinnear, Cuba Gooding Jr., Skeet Ulrich, Shirley Knight, Yeardley Smith, Lupe Ontiveros, Lawrence Kasdan, Harold Ramis, Kathryn Morris, Alison Rose, Maya Rudolph, Julie Benz, Jimmy Workman, Jamie Kennedy, Brian Doyle-Murray, Peter Jacobson, Jesse James, Randall Batinkoff, Linda Gehringer, Kaitlin Hopkins, Danielle Spencer, Lisa Edelstein, Danielle Brisebois, Todd Solondz, Matt Malloy, Tom McGowan, Bibi Osterwald, Ross Bleckner, Bernadette Balagtas, Jaffe Cohen, Laurie Kilpatrick, Alice Vaughn, Shane Black, Stan Bly, Missi Pyle, Tara Subkoff, Rebekah Johnson, Leslie Stefanson, Patricia Childress, Wood Harris, Chloe Brooks, Cooper Brooks, Kristi Zea, Justin Herwick, John F. O'Donohue, Mary Elizabeth Still, Paul Greenberg, David A. Kipper, Antonia Jones, Alex Ballar, Bronwyn Cornelius, Amy Anzel, Laura Mayes Byrnes, Maurice LaMarche
New York City. Melvin Udall, a cranky, bigoted, obsessive-compulsive writer, finds his life turned upside down when neighboring gay artist Simon is hospitalized and his dog is entrusted to Melvin. In addition, Carol, the only waitress who will tolerate him, must leave work to care for her sick son, making it impossible for Melvin to eat breakfast.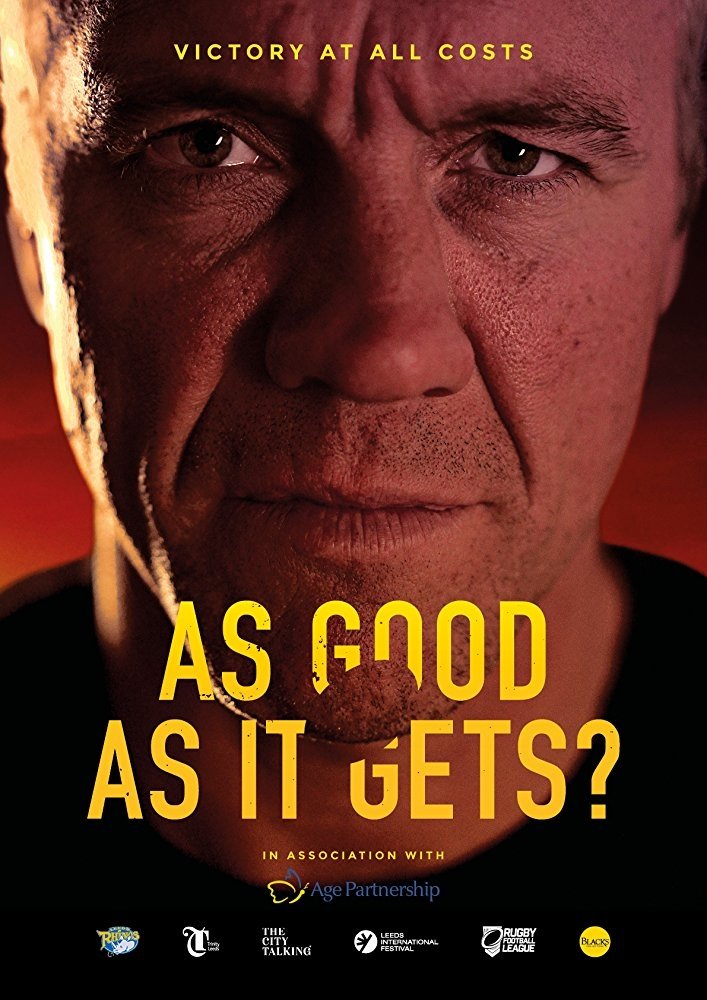 As Good as It Gets? (2018)
Starring:
What will you lose to win? 'As Good As It Gets?' explores the rebirth of British rugby league side Leeds Rhinos, the team's 'Golden Generation' and the battle for a historic treble in 2015.
ECW As Good as it Gets (1997)
Starring:
Date: 1997, September 20 Location: Philadelphia, Pennsylvania Attendance: 1,600 Balls Mahoney and Axl Rotten vs. The Full Blooded Italians (Tracy Smothers and Little Guido) Jerry Lynn vs. Justin Credible Chris Candido vs. Lance Storm Bam Bam Bigelow vs. Spike Dudley No Disqualification Match for the ECW World Heavyweight Championship Phil LaFon vs. Shane Douglas (c) ECW World Television Championship Match Pitbull #2 vs. Taz (c) Sabu vs. The Sandman Beulah McGillicutty and Tommy Dreamer vs. Bill Alfonso and Rob Van Dam ECW World Tag Team Championship Match The Dudleys (Buh Buh Ray Dudley and D-Von Dudley) (c) vs. The Gangstanators (New Jack and Kronus)