Movie Results For: babe
The Pharmacist (1933)
Starring: Lorena Carr,Elise Cavanna,W.C. Fields,Babe Kane,Grady Sutton
The Pharmacist (1933)
Starring: W.C. Fields,Babe Kane,Grady Sutton,Elise Cavanna,Lorena Carr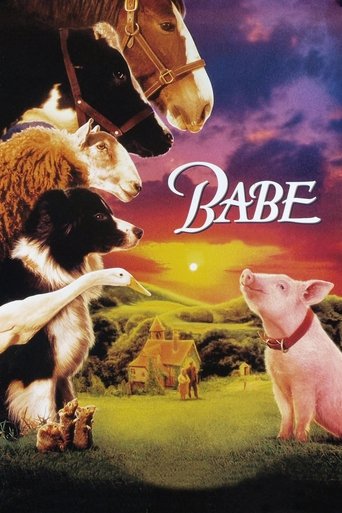 Babe (1995)
Starring: James Cromwell, Magda Szubanski, Zoe Burton
The Pride of the Yankees (1942)
Starring: Gary Cooper,Teresa Wright,Walter Brennan,George Herman "Babe" Ruth,Dan Duryea
Thieves (Les Voleurs) (1996)
Starring: Catherine Deneuve,Daniel Auteuil,Laurence Cote,Fabienne Babe,Julien Riviere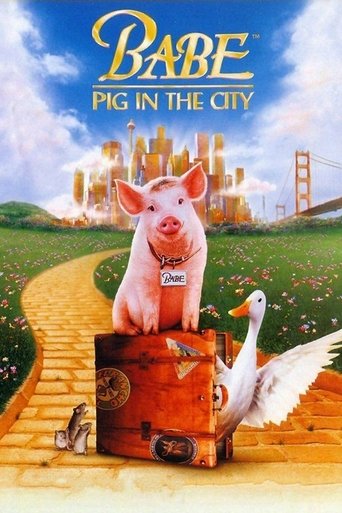 Babe: Pig in the City (1998)
Starring: James Cromwell, Elizabeth Daily, Magda Szubanski
You and the Night (Les rencontres d'apres minuit) (2013)
Starring: Eric Cantona,Beatrice Dalle,Fabienne Babe,Kate Moran,Nicolas Maury
A pair of young swingers stages an all-star orgy that turns unexpectedly therapeutic in this quirky and sexy comedy featuring Beatrice Dalle. ~ Jason Buchanan, Rovi
The Babe (1992)
Starring: John Goodman,Kelly McGillis,Trini Alvarado,Bruce Boxleitner,Peter Donat
La Vie Promise (2004)
Starring: Isabelle Huppert, Pascal Greggory, Maud Forget
La Vie Promise (2004)
Starring: Isabelle Huppert,Pascal Greggory,Maud Forget,Andre Marcon,Fabienne Babe
The Only Real Game (2014)
Starring: Melissa Leo,Sarungbam Lalit Singh,Devika Toleka,Geet Lairenjam,Imasi
This deeply stirring documentary by award winning director Mirra Bank and narrated by Academy Award (R)-winner Melissa Leo, THE ONLY REAL GAME illuminates the magic of baseball for people in a remote and troubled place. Once princely Manipur, a strife-torn border state in northeast India, defies armed insurgency, drug trafficking and HIV/AIDS through love of our national pastime. Dreams chase reality when a band of baseball-loving New Yorkers, and two Major League Baseball Envoy coaches, team up with Manipuri men, women and children to "Play Ball." With gifted women and girls among the best players - as well as leaders of peace and justice initiatives - this far away story brings us to the heart of the great American Game, or as Babe Ruth put it, "the only real game in the world." (c)
The Only Real Game (2014)
Starring: Melissa Leo,Sarungbam Lalit Singh,Devika Toleka,Geet Lairenjam,Imasi
This deeply stirring documentary by award winning director Mirra Bank and narrated by Academy Award (R)-winner Melissa Leo, THE ONLY REAL GAME illuminates the magic of baseball for people in a remote and troubled place. Once princely Manipur, a strife-torn border state in northeast India, defies armed insurgency, drug trafficking and HIV/AIDS through love of our national pastime. Dreams chase reality when a band of baseball-loving New Yorkers, and two Major League Baseball Envoy coaches, team up with Manipuri men, women and children to "Play Ball." With gifted women and girls among the best players - as well as leaders of peace and justice initiatives - this far away story brings us to the heart of the great American Game, or as Babe Ruth put it, "the only real game in the world." (c)
She's Out of My League (2010)
Starring: Jay Baruchel, Alice Eve, T.J. Miller
Kirk, an average Joe, can't believe his luck. He's stuck in a seemingly dead-end job as an airport security agent. Against all odds, Molly, a successful and outrageously gorgeous babe, falls for him. Kirk is stunned. So are his friends, his family and even his ex-girlfriend. Now, he has to figure out how to make the relationship work, even though he'd be the first to admit she's totally out of his league.
Henry & Me (2014)
Starring: Richard Gere,Chazz Palminteri,Danny Aiello,Luis Guzman,Cyndi Lauper
Henry & Me tells the courageous story of Jack (voice of AUSTIN WILLIAMS), a brave young boy who is dealt a life changing blow. Low on confidence and filled with self-doubt, hope seems lost until a mysterious stranger named Henry (voice of Golden Globe (R) winner RICHARD GERE) appears. With the touch of his pin, Henry sweeps Jack away to a magical world where illness no longer exists and New York Yankee legends play forever. The incredible journey brings Jack face to face with Babe Ruth (voice of Academy Award (R) Nominee CHAZZ PALMINTERI), Thurman Munson (voice of Grammy Award (R) winner PAUL SIMON), Lefty Gomez (voice of LUIS GUZMAN) and Mickey Mantle (voice of DAVID MANTLE) - who all teach Jack to face his fears and never give up. The movie climaxes at Yankee stadium, where Jack must test his newfound courage to save the season and find his way home. Featuring an all star-cast of unforgettable characters, Henry & Me is heartwarming movie experience for the entire family with a message of hope... when life throws a curve... swing away!
Axe Giant: The Wrath Of Paul Bunyan (2013)
Starring: Joe Estevez, Amber Connor, Dan Haggerty
Young adults at a first-time offenders' boot camp discover the legend of the giant lumberjack Paul Bunyan is real, but is much more horrifying than they could have imagined. Starring B-Movie legends Joe Estevez and Dan Haggerty (TV's Grizzly Adams), along with many familiar and fresh faces, Axe Giant: The Wrath of Paul Bunyan will make audiences cower in fear. Paul Bunyan is one of the most famous characters in North American folklore. He and his companion, "Babe the Blue Ox," are featured in tall tales of the late 19th and early 20th centuries. Bunyan was a lumberjack of great size and skill, rumored to be so tall that "his footsteps created the Great Lakes. He "dragged his axe and made the Grand Canyon." Today, Bunyan's legend is commemorated by numerous statues across the upper Midwest and far-beyond. (c) Cinema Purgatorio