Movie Results For: bitter+victory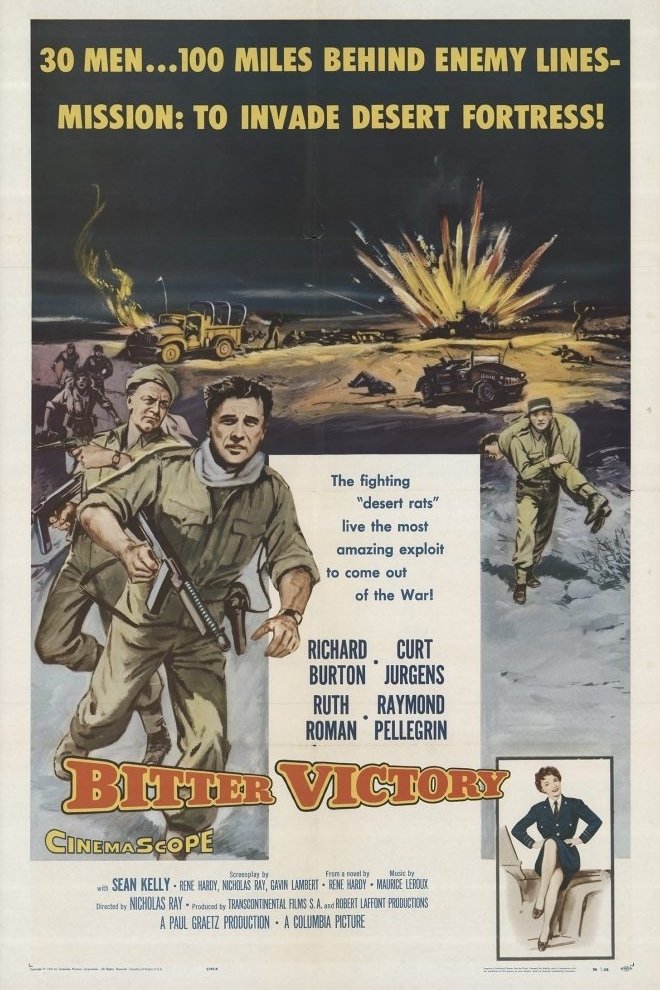 Bitter Victory (1957)
Starring: Richard Burton, Curd Jürgens, Ruth Roman, Christopher Lee, Raymond Pellegrin, Anthony Bushell, Alfred Burke, Ramón de Larrocha, Ronan O'Casey, Fred Matter, Raoul Delfosse, Andrew Crawford, Nigel Green, Harry Landis, Christian Melsen, Sumner Williams, Joé Davray, Sean Kelly
A commander receives a citation for an attack on Rommel's headquarters, which is actually undeserved as the commander is unfit for his job. On top of that, unbeknownst to him, his wife is having an affair with one of his officers.
Bitter Victory (2009)
Starring: Clovis Cornillac, Christian Clavier, Sami Bouajila, Vimala Pons, Valérie Benguigui, Marilyne Canto, Michel Aumont, Eric Berger, Marianne Denicourt, Herrade Von Meier
Xavier Alvarez est un petit architecte d'Aix-en-Provence en recherche perpétuelle de reconnaissance sociale. Il s'est fait tout seul et prospère, mais ne parvient pas à décrocher de gros marchés publics pour assouvir ses rêves de grandeur. Il décide donc de se lancer corps, âme et biens dans la campagne de Vincent Cluzel, le candidat outsider à la mairie, persuadé qu'il renverra l'ascenseur en cas de victoire. À force d'énergie et de ruse, il parvient à discréditer le favori et à faire élire son protégé. Mais leur amitié sincère, nouée dans la conquête du pouvoir, se heurte alors aux limites des intérêts et de l'ambition.