Movie Results For: brick
Brick (2006)
Starring: Joseph Gordon-Levitt, Lukas Haas, Nora Zehetner
Brick (2006)
Starring: Joseph Gordon-Levitt,Nora Zehetner,Noah Fleiss,Matt O'Leary,Noah Segan
Brick Lane (2008)
Starring: Tannishtha Chatterjee, Satish Kaushik, Christopher Simpson
Brick Lane (2008)
Starring: Tannishtha Chatterjee,Satish Kaushik,Christopher Simpson,Naeema Begum,Lana Rahman
The Wiz Live! (2015)
Starring: Queen Latifah, Mary J. Blige, David Alan Grier
NBC embarks on its latest musical holiday tradition: a 3-hour LIVE event production of the groundbreaking Broadway show that brought Oz to life in a funky sing-along journey down the yellow brick road. -- (C) NBC
A LEGO Brickumentary (2015)
Starring: Jason Bateman, Jamie Berard, Alice Finch Lee
Since the birth of their trademark toy in 1958, The LEGO Group has produced over 400 billion bricks. But more and more, LEGO bricks aren't just for kids, and some take them very seriously. Adult Fans of LEGO around the globe are unashamedly declaring their love of the brick, brick artists are creating stunning and surprising creations, and LEGO master builders are building human scale and larger structures. LEGO bricks are being used educationally, therapeutically, and have provided a universal system for human creativity and our innate desire "to build." This documentary playfully delves into the extraordinary impact of the LEGO brick, its massive global fan base, and the innovative uses for it that has sprung up around the world.
Anchorman 2: The Legend Continues (2013)
Starring: Will Ferrell, Paul Rudd, Steve Carell
With the 70's behind him, San Diego's top rated newsman, Ron Burgundy (Will Ferrell), returns to the news desk in "Anchorman 2: The Legend Continues." Also back for more are Ron's co-anchor and wife, Veronica Corningstone (Christina Applegate), weather man Brick Tamland (Steve Carell), man on the street Brian Fantana (Paul Rudd) and sports guy Champ Kind (David Koechner) - All of whom won't make it easy to stay classy...while taking the nation's first 24-hour news channel by storm. (c) Paramount
Hard Labor (2015)
Starring: Helena Albergaria,Naloana Lima,Marat Descartes,Gilda Nomacce,Marina Flores
Young housewife Helena is on the verge of fulfilling a dream as she prepares to open her own business: a neighborhood grocery store. She hires a maid, Paula, to take care of her house and daughter. But when her husband Otavio is suddenly fired from his job as an insurance executive, Helena is left to support the family alone. As Otavio fails to find work and becomes increasingly alienated, business struggles to take off and the pressure on Helena mounts. To make things worse, she discovers that one of the building's brick walls seems to be crumbling. Helena begins to wonder if that may be the cause of all her problems.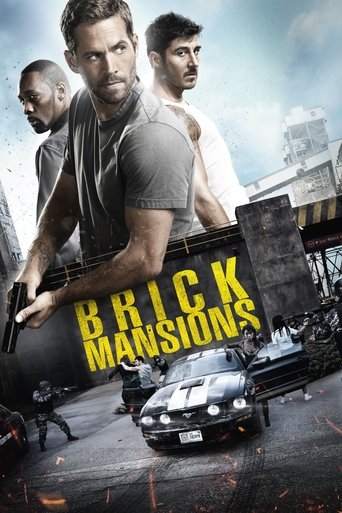 Brick Mansions (2014)
Starring: Paul Walker, David Belle, The Rza
In a dystopian Detroit, abandoned brick mansions left from better times now house only the most dangerous criminals. Unable to control the crime, the police constructed a colossal containment wall around this area to protect the rest of the city. For undercover cop Damien Collier (Paul Walker) every day is a battle against corruption. For Lino (David Belle), every day is a fight to live an honest life. Their paths never should have crossed, but when drug kingpin, Tremaine (RZA) kidnaps Lino's girlfriend, Damien reluctantly accepts the help of the fearless ex-convict, and together they must stop a sinister plot to devastate the entire city. With stylized action featuring thrilling Parkour stunts (David Belle is the co-founder of this physical training discipline), Brick Mansions puts an entertaining twist on the action genre. (c) Relativity
Medora (2013)
Starring:
Years ago, Medora was a booming rural community with prosperous farms, an automotive parts factory, a brick plant, and a thriving middle class. The factories have since closed, crippling Medora's economy and its pride. The population has slowly dwindled to around 500 people. Drug use is common, the school faces consolidation, and as one resident put it, "This town's on the ropes." Medora follows the down-but-not-out Medora Hornets varsity basketball team over the course of the 2011 season, capturing the players' stories both on and off the court. The Hornets were riding a brutal losing streak when we arrived, and the team's struggle to compete bears eerie resonances with the town's fight for survival. Medora is an in-depth, deeply personal look at small-town life, a thrilling, underdog basketball story, and an inspiring tale of a community refusing to give up hope despite the brutal odds stacked against them. On a grander scale, it's a film about America, and the thousands of small towns across the country facing the same fight. As one towns-person told us, "Once we lose these small towns, we can't get them back." (c) Official Site
Creative Control (2016)
Starring: Benjamin Dickinson, Nora Zehetner, Dan Gill
The setting is New York, 5 minutes in the future. The glorious technological advances and communication devices of the near future meant to increase connectivity and alleviate boredom are only increasing the anxiety level of the insecure New Yorkers who've inherited them. David (writer/director Benjamin Dickinson) is an overworked, tech-addled advertising executive developing a high-profile marketing campaign for a new generation of Augmented Reality glasses. Feeling stuck in his relationship with yoga teacher Juliette (Nora Zehetner, BRICK, IFC's "Maron"), he envies the charmed life of his best friend, fashion photographer Wim (Dan Gill, THE WEDDING RINGER) and his entrancing girlfriend Sophie (Alexia Rasmussen, CALIFORNIA SOLO) - so he uses the glasses to develop a life-like avatar of her. Unwittingly, fantasy and reality begin to blur. As passions escalate and things get increasingly out of hand, the friends are forced to deal with the impending collision between their public, private and imaginary lives.
Stonewall (2015)
Starring: Jonathan Rhys Meyers, Ron Perlman, Caleb Landry Jones
STONEWALL is a drama about a fictional young man caught up during the 1969 Stonewall Riots. Danny Winters (Jeremy Irvine) is forced to leave behind friends and loved ones when he is kicked out of his parent's home and flees to New York. Alone in Greenwich Village, homeless and destitute, he befriends a group of street kids who soon introduce him to the local watering hole The Stonewall Inn; however, this shady, mafia-run club is far from a safe-haven. As Danny and his friends experience discrimination, endure atrocities and are repeatedly harassed by the police, we see a rage begin to build. This emotion runs through Danny and the entire community of young gays, lesbians and drag queens who populate the Stonewall Inn and erupts in a storm of anger. With the toss of a single brick, a riot ensues and a crusade for equality is born. -- (C) Roadside Attractions
The Wonderful World of Oz: Celebrating the Oz Community (2013)
Starring: Angelica Carpenter,Celia Nancy Foster,Jason McCoy (II),Aaron Schultz,Eric Shanower
Family Films Productions is honored to have produced a documentary on such an amazing subject...Oz. The world of Oz encompasses much, much more then just the wonderfully written Oz books by author, L. Frank Baum. It can be described as a vast halo encompassing the galaxy and around the entire earth! It is about the people as well, the Oz fans, and collectors, and historians as well - and others who just simply enjoy watching the 1939 film, "The Wizard of Oz" or the many who are fans of "Return to Oz", from 1985. Then there are those that just "hate" the Oz books! There are also some that take time out each year to watch an annual television viewing of the film, just because they want to make a family member or friend happy. We have met many people over the years personally that haven't seen the classic 1939 Oz film and we look forward every time to hear their thoughts....good or bad. We thank you for your interest in our film about the Oz community. The film consists of some truly amazing individuals, along the journey throughout the documentary. You will meet dedicated Oz fans, and some collectors who will take risks! Join us as we take you on a journey - a journey down the yellow brick road as we introduce you to a number of talented individuals in the Oz community, including collectors and fans. The film features - Graphic Artist, Eric Shanower, Elaine Willingham of - BeyondTheRainbow2Oz.com, Michael Seiwert (JudyGarland.com), Wizard of Oz Collector, Foo Travetto, and Return to Oz Collector, Celia Foster, and Aaron Schultz, Return to Oz Fan and Collector. There are also featured interviews with members of the International Wizard of Oz Club, including well known, former president, Angelica Carpenter and rare never before seen footage with club member the late, Patrick Maund. We also feature a few sections in the production on the Oz Museum in Wamego, KS, and the former Oz Chesterton Festival in Chesterton, Indiana among others. There is also exclusive footage of the late Donna Stewart-Hardway from 2006. She has been claimed as being in the 1939 film, and was mistaken as she was not in the film. She was one of the many guests at the Chesterton Oz festival. The film is narrated professionally by voice actor Jason McCoy and dedicated to an amazing Oz collector Stephen Sisters who is a close friend of the producer of this documentary.
In The Hive (2012)
Starring: Loretta Devine,Michael Clarke Duncan,Vivica A. Fox,Jonathan McDaniel,Lil' J
Sixteen-year-old Xtra Keys lives by a few simple rules, all rooted in a world of brazen, retaliatory violence. His very survival depends on his ability to be brick-hard, emotionless and impenetrable with everyone. Only his infant son is excluded from the hard-shell persona. Xtra hopes to raise his son better than his boozy, razor-edged mother raised him and his younger siblings. Xtra just might get his wish when he's thrust into the world of the HIVE, an unorthodox alternative school full of other discarded boys who, because of their disciplinary issues and substandard grade levels, have been kicked out or abandoned by every school in this Southern rural county. For these black boys, the HIVE may very well be their last chance before jail but first they have to persevere under the HIVE's director, the indomitably audacious Ms. Inez and her friendly giant of an assistant, Mr. Hollis, both of whom rule the HIVE with love, discipline, soul food and the expectation of excellence, none of which Xtra is in any way prepared for. Based on an actual school in North Carolinas Bertie County, IN THE HIVE is a movie about the power of love and a gripping reminder that we can all make a difference in a child's life, even the ones who've been relegated to the discarded heap for far too long. (c) Official Site
The Wounded Brick (2014)
Starring:
What does housing mean for a human being and for our modern society? The demographical, sociological, and economical upheavals in the modern world compel us to put this term radically in question. We leave the ivory tower and look at real life: We meet earthquake victims in the Italian Abruzzo who lost their homes and therefore an important part of their social and cultural identity. This experience became an impulse and pivotal point for mediart01 to begin a very personal search for the nature of housing and to find out its existentialistic meaning both for the individual and our modern society. We meet famous architects, urban planners and sociologists, who talk about their efforts to design housing according to people's needs. They fight against economical and political interests and speculation. Finally all their stories seem to be connected: Architecture is life and housing is the human soul.