Movie Results For: chunhyang
Chunhyang (2000)
Starring: Hyo-jeong Lee, Cho Seung-woo, Sung-nyu Kim, Hak-young Kim, Jung-hun Lee, Ji-youn Choi, Lee Hae-eun, Kyung-yeun Hong, Sang-hyun Cho, Myung-hwan Kim, Lee Hae-Ryong, Jun-hwam Gok, Keun-mo Yoon, Taell Bae, Bong Chotae, Yun Il-ju
Mongryong marries the beautiful Chunhyang without telling his father, the Governor of Namwon. When his father is transferred to Seoul, Mongryong has to leave Chunhyang and finish his exams. Chunhyang, being the daughter of a courtesan, is also legally a courtesan. She is beaten and imprisoned when she refuses to obey the new Governor Byun, as she wishes to be faithful to her husband. After three years, Mongryong passes his exam and becomes an emissary to the King. He returns to Namwon, disguised as a beggar, just before Chunhyang is to be flogged to death at the governor's birthday celebration.
Hanyang Gibang Chunhyang Story (2015)
Starring:
The chasity of the most beautiful women of the Joseon has fallen! Maewol-dang is a gisaeng house located on the outskirts of Hanyang in the early Joseon times. With madame Wol-gi in the lead, there are Nok-su, Chunhyang, Sim-cheong and other beautiful gisaeng's living there. One day a party happens in the gisaeng house and the reason is Wol-hyang's long time lover and Lord Park Pan-seo has come back to Hanyang for the first time in 8 years. Nok-su has always been jealous of the Madame position so she schemes to seduce Lord Park and take over authority. One rainy night, a woman in a Kimono bangs the door of the Maewol-dang. Servant Kong-ji opens the door and this Japanese geisha named Namikko asks to meet Wol-hyang. Meanwhile, the next morning, a male servant named Dol-se is found dead, stabbed by a hairpin that Chunhyang lost and hell breaks loose in Maewol-dang. Wol-hyang's close nephew Lord Lee Joon-ki comes to Maewol-dang to rest his weak body.
Seong Chun-hyang (1961)
Starring: Kim Jin-kyu, Do Kum-bong, Ye-chun Lee, Han Eun-jin, Yang Hun, Heo Chang-kang, Choi Eun-hee
Chun-hyang, the only daughter of an old gisaeng named Wolmae, falls in love with Lee Mong-nyong and promises to marry him. But Lee leaves for Seoul with his father who's an aristocrat, and the new governor, Byeon Hakdo, covets Chun-hyang because she is the most beautiful girl in town. When Chun-hyang rejects his order to serve him at night, Governor Byeon sends her to jail. In the mean time, Lee passes the state exam and becomes a special undercover agent of the king. He comes back to where Chun-hyang lives to save her and punishes Governor Byeon
The Tale of Chun Hyang (1980)
Starring: Yong Suk Kim, Sun Gyu Choe, Yong Suk Kim, Sun Gyu Choe, Jong Hwan Ko, Son Yong Kim
A tender hearted young noble man, Mong Ryong, falls in love with the famous Chun Hyang, the most beautiful girl of a Korean village, who is also a pure hearted artist but unfortunately from a humble family. This forbidden love yields a secret marriage which is doomed when Mong Ryong departs for Seoul to pass state exams and his absence lasts three years, during which no news is heard of him. Meanwhile, the arrival of an infamous new sheriff puts Chun Hyang in great peril when she refuses to break her marriage and obey the desires of the sheriff.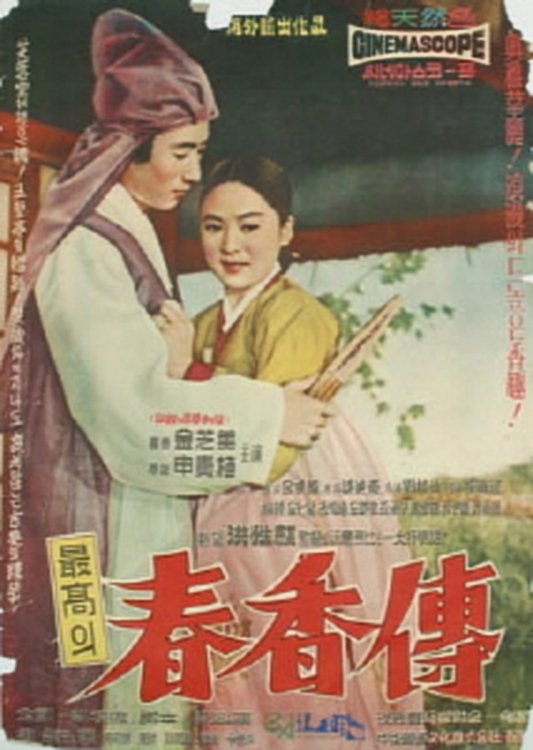 The Love Story of Chun-hyang (1961)
Starring: Kim Ji-mee, Sin Gwi-sik
Wolmae is a gisaeng living in Namwon. Her daughter, Chun-hyang, is secretly engaged to marry Lee Mong-ryong. Lee leaves for Seoul with his father and the new governor, Byeon Hak-do, begins coveting Chun-hyang. But this beautiful girl steadfastly rejects Byeon's orders to serve him at night. Byeon sends her to jail. In the mean time, Lee passes the state exam and is appointed as the king's undercover agent. He comes back to Namwon and punishes Byeon, saving Chun-hyang.