Movie Results For: cinderella
Cinderella (1950)
Starring: Ilene Woods, Eleanor Audley, Verna Felton
Ever After: A Cinderella Story (1998)
Starring: Drew Barrymore, Anjelica Huston, Dougray Scott
Ever After - A Cinderella Story (1998)
Starring: Drew Barrymore,Anjelica Huston,Dougray Scott,Patrick Godfrey,Megan Dodds
Cinderella Man (2005)
Starring: Russell Crowe, Renee Zellweger, Paul Giamatti
Cinderella (2015)
Starring: Lily James, Cate Blanchett, Richard Madden
Cate Blanchett stars in this new vision of the Cinderella tale from director Kenneth Branagh and the screenwriting team of Chris Weitz and Aline Brosh McKenna for Disney Pictures. ~ Jeremy Wheeler, Rovi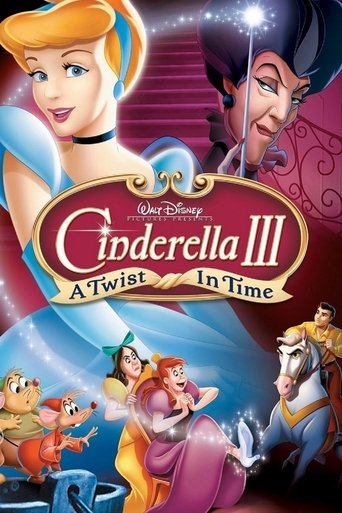 Cinderella III: A Twist in Time (2007)
Starring: Jennifer Hale, Christopher Daniel Barnes, C.D. Barnes
Cinderella II - Dreams Come True (2002)
Starring: Holland Taylor,Frank Welker,Jennifer Hale,Tress MacNeille,Rob Paulsen
Harry & Snowman (2016)
Starring: Harry deLeyer, Tom Haney, Tom Haney
Dutch immigrant, Harry deLeyer, journeyed to the United States after World War II and developed a transformative relationship with a broken down Amish plow horse he rescued off a slaughter truck bound for the glue factory. Harry paid eighty dollars for the horse and named him Snowman. In less than two years, Harry & Snowman went on to win the triple crown of show jumping, beating the nations blue bloods. They were famous for their day and traveled around the world together. Their chance meeting at a Pennsylvania horse auction saved them both and crafted a friendship that lasted a lifetime. Eighty-six year old Harry tells their Cinderella love story firsthand, as he continues to train on today's show jumping circuit.
A Brony Tale (2014)
Starring: Ashleigh Ball, Mike Bernstein, Jordan Downs
Vancouver-based voice artist Ashleigh Ball has been the voice of numerous characters on classic cartoons such as Care Bears, Strawberry Shortcake, Cinderella and more. When Ashleigh was hired as the voice of Apple Jack and Rainbow Dash on the 4th generation installment of Hasbro's My Little Pony series, she had no idea she was about to become an internet phenomenon and voice celebrity among a very unique type of fan...The Bronies. The subculture of middle aged men who are obsessed with the show My Little Pony. The documentary "A Brony Tale" not only gives us an inside look into the incredible niche world of these men, but also an intimate look into the courage it takes to just be yourself...even if that means liking a little girls cartoon.
Into the Woods (2014)
Starring: Meryl Streep, Emily Blunt, James Corden
"Into the Woods" is a modern twist on several of the beloved Brothers Grimm fairy tales, intertwining the plots of a few choice stories and exploring the consequences of the characters' wishes and quests. This humorous and heartfelt musical follows the classic tales of Cinderella (Anna Kendrick), Little Red Riding Hood (Lilla Crawford), Jack and the Beanstalk (Daniel Huttlestone), and Rapunzel (MacKenzie Mauzy)-all tied together by an original story involving a baker and his wife (James Corden & Emily Blunt), their wish to begin a family and their interaction with the witch (Meryl Streep) who has put a curse on them. (C) Disney
The Mighty Macs (2011)
Starring: Carla Gugino,Ellen Burstyn,David Boreanaz,Marley Shelton,Margaret Anne Florence
The Mighty Macs is based on the incredible true story of the 1971-72 Immaculata College team that started in obscurity but became the original Cinderella story in women's basketball. This team of pioneers went from barely making that inaugural tournament to the first dynasty in their game. And Cathy Rush (Carla Gugino, the woman that was ahead of her time, became immortalized when she was inducted into the Naismith Memorial Basketball Hall of Fame. -- (C) Quaker Media
Cinderella II: Dreams Come True (2002)
Starring: Jennifer Hale,Christopher Daniel Barnes,Corey Burton,Rob Paulsen,Susan Blakeslee
A Cinderella Story (2004)
Starring: Hilary Duff, Jennifer Coolidge, Chad Michael Murray
Manny (2015)
Starring: Manny Pacquiao,Liam Neeson,Jeremy Piven,Jimmy Kimmel,Mark Wahlberg
Synopsis: From abject poverty to becoming a ten time boxing world champion and history's first boxing congressman, international icon Manny Pacquiao is the definition of a Cinderella story. In the Philippines, he first entered the ring as a sixteen year old weighing 98 pounds with the goal of earning money to feed his family. Now, almost twenty years later, when he fights, the country of 100 million people comes to a complete standstill to watch. Today at the height of his career, he is faced with maneuvering an unscrupulous sport and political duties, while still maintaining a personal life. The question now is what bridge is too far for Manny Pacquiao to cross? (C) Gravitas
Trap For Cinderella (2013)
Starring: Tuppence Middleton, Alexandra Roach, Kerry Fox
Micky is a fun-loving photographer, living a party lifestyle in London until a chance encounter with a childhood friend changes her world forever. The opposite to life-and-soul Micky, Do is a quiet bank clerk, with little by way of a social life. Yet much to the annoyance of her DJ boyfriend Jake, Micky is all too delighted to reacquaint herself with Do, embracing her old friend with typical gusto. But when they return to the tranquil French villa where they spent so many happy summers in their youth, tragedy strikes. A fire engulfs the building, leaving Do dead and Micky badly burnt and blighted by amnesia. Unable to even recall her own name, Micky is forced on a shocking journey of self-discovery. For nothing - friends, relatives, lovers and even herself - is as she remembers it. (c) IFC Midnight