Movie Results For: clerks
Clerks (1994)
Starring: Brian O'Halloran, Jeff Anderson, Marilyn Ghigliotti
Clerks II (2006)
Starring: Brian O'Halloran, Jeff Anderson, Rosario Dawson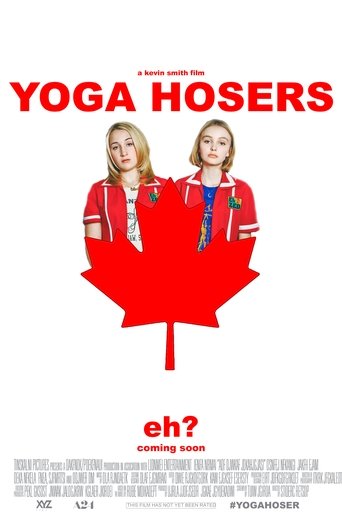 Yoga Hosers (2015)
Starring: Lily-Rose Depp,Harley Quinn Smith,Johnny Depp,Justin Long,Michael Parks
Kevin Smith (Clerks, Tusk) writes and directs this comic book-influenced action adventure centering 15-year-old Manitoba yoga fanatics and convenience store clerks Colleen Collette (Lily-Rose Depp) and Colleen McKenzie (Harley Quinn Smith), both of whom find their invitation to a Grade 12 party in jeopardy when forced to do battle with a powerful force of evil that rises up from the earth. In their quest to vanquish the ancient menace in time for the big bash, the two Colleens power up their Chakras, prepare their Warrior Poses, and enlist the aid of famed Montreal man-hunter Guy Lapointe (Johnny Depp). Tusk stars Michael Parks, Justin Long, Haley Joel Osment, Genesis Rodriguez, Ralph Garmin, and Harley Morenstein co-star in a film featuring Tony Hale, Natasha Lyonne, and Adam Brody. ~ Jason Buchanan, Rovi
Vigilante Diaries (2016)
Starring: Paul Sloan,Quinton "Rampage" Jackson,Michael Jai White,Jason Mewes,Michael Madsen
Jason Mewes of CLERKS and JAY AND SILENT BOB STRIKE BACK stars as an in-your-face filmmaker known for his web videos of an urban avenger known only as 'The Vigilante' (Paul Sloan). But when The Vigilante terminates a creep with deep connections, it'll trigger a live-feed bloodbath between the Armenian mob, Mexican cartels, a rogue team of Special Forces commandos, and an international black ops conspiracy that's about to make things very personal. UFC legend Quinton 'Rampage' Jackson, Michael Jai White (BLACK DYNAMITE), Jaqueline Lord (MERCENARY FOR JUSTICE), WWE star Sal 'Chavo' Guerrero, Jr., James Russo (DJANGO UNCHAINED) and Michael Madsen (THE HATEFUL EIGHT) co-star in this explosive throwback packed with badass swagger, hardcore firepower and bone-crunching action.
She Loves Me (2016)
Starring:
Fathom Events, BroadwayHD, and Roundabout Theatre Company, in association with Ellen M. Krass Productions, Inc., present the Tony Award (R)-winning musical, She Loves Me: From Broadway's Studio 54, in select cinemas nationwide for a special one-night event on Thursday, December 1. Directed by Scott Ellis, She Loves Me, stars Tony Award-winner Laura Benanti and Tony Award-nominee Zachary Levi as Amalia and Georg, two parfumerie clerks who don't quite get along, but who may just be meant for one another. Rounding out this fantastic cast is Jane Krakowski, Gavin Creel, Byron Jennings and Tom McGowan. This big screen musical premiere will also feature exclusive interviews with the cast and creators.
Dark Cove (2016)
Starring: Eliot Bayne,Rob Willey,Cameron Crosby,Rob Abbate,Montanna McNalley
Five friends go camping on the wild coast of Vancouver Island, Canada. After a physical confrontation with two Australian surfers the night quickly spirals into a violent nightmare as the campers are forced to fight against man and nature to survive. Produced for only $25,000 the film's impressive cinematography raises the bar for micro budget filmmaking. The movie has been called "Clerks meets Deliverance".
Jay & Silent Bob's Super Groovy Cartoon Movie (2013)
Starring: Jason Mewes, Kevin Smith, Eliza Dushku
Clerks stoners Jay (voice of Jason Mewes) and Silent Bob (voice of Kevin Smith) hit the lottery jackpot, and use their cash windfall to become crime-fighting superheroes in this irreverent animated adventure from director Steve Stark. ~ Jason Buchanan, Rovi
Snowball Effect: The Story of Clerks (2004)
Starring: Kevin Smith, Scott Mosier, Brian O'Halloran
Back to the Well: Clerks II (2006)
Starring: Kevin Smith, Scott Mosier, Jeff Anderson
Clerks III (2015)
Starring: Rosario Dawson, Kevin Smith, Jason Mewes
Clerks: The Lost Scene (2004)
Starring: Jeff Anderson, Brian O'Halloran, Joey Lauren Adams
Clerks (1995)
Starring: Jim Breuer, Bodhi Elfman, Keri Russell
Clerks Casing Mail for Bags, U.S.P.O. (1903)
Starring: