Movie Results For: colossal
Colossal Youth (Juventude Em Marcha) (2006)
Starring: Ventura, Vanda Duarte, Beatriz Duarte
Colossal (2016)
Starring: Anne Hathaway, Jason Sudeikis, Dan Stevens (IV)
A woman (Anne Hathaway) begins to believe that her mental breakdown is responsible for catastrophic events occurring on the other side of the globe. Nacho Vigalondo directed this sci-fi thriller, which received its world premiere at the 2016 Toronto International Film Festival.
The Amazing Colossal Man (1957)
Starring: Glenn Langan, Cathy Downs, William Hudson
Horse Money (2015)
Starring: Tito Furtado, Antonio Santos, Vitalina Varela
A visionary masterwork from the renowned director of COLOSSAL YOUTH, Pedro Costa's HORSE MONEY is a mesmerizing odyssey into the real, imagined and nightmarish memories of the elderly Ventura, a Cape Verdean immigrant living in Lisbon. The time is now, a numbing and timeless present of hospital stays, bureaucratic questioning, and wandering through remembered spaces... and suddenly it is also then, the mid '70s and the time of Portugal's Carnation Revolution, when Ventura got into a knife fight with his friend Joaquim. HORSE MONEY is a self-reckoning, a moving memorialization of lives in danger of being forgotten, as well as a piercingly beautiful work of modern cinema. (C) Cinema Guild
Fatal Assistance (2014)
Starring:
Award-winning Haitian-born filmmaker Raoul Peck takes us on a two-year journey inside the challenging, contradictory, and colossal rebuilding efforts in post-earthquake Haiti. Through its provocative and radical point of view, Fatal Assistance offers a devastating indictment of the international community's post-disaster idealism. The film dives headlong into the complexity of the reconstruction process and the practices and impact of worldwide humanitarian and development aid, revealing the disturbing extent of a general failure. We learn that a major portion of the money pledged to Haiti was never disbursed, nor made it into the actual reconstruction. Fatal Assistance leads us to one clear conclusion: current aid policies and practice in Haiti need to stop immediately. (c) Lincoln Center
Sagrada: The Mystery of Creation (2014)
Starring: Jaume Torreguitart,Etsuro Sotoo,Jordi Bonet i Armengol,Joan Rigol i Roig,Joan Bassegoda i Nonell
One of the most iconic and enduring human structures ever built, Barcelona's La Sagrada Familia is a unique and fascinating architectural project conceived by Antoni Gaudi in the late 19th century. More than 125 years later after construction began, the basilica still remains unfinished. SAGRADA celebrates Gaudi's vision and the continuing work of countless laborers, artisans, designers and architects as they strive to complete the colossal project while delving into the mysterious process of artistic creation.(C) First Run Features
The Final Member (2014)
Starring: Sigurdur "Siggi" Hjartarson,Tom Mitchell,Pall Arason,Sigurdur Hjartarson
Paris has the Louvre. London has the Tate Modern, and New York the Metropolitan Museum. But Husavik, Iceland-a diminutive village on the fringe of the Arctic Circle-boasts the world's only museum devoted exclusively to painstakingly preserved male genitalia. Founded and curated by Sigurdur "Siggi" Hjartarson, the Icelandic Phallological Museum houses four decades worth of mammalian members, from a petite field mouse to the colossal sperm whale, and every "thing" in between. But, lamentably, Siggi's collection lacks the holy grail of phallic phantasmagoria: a human specimen. Siggi's world changes dramatically when he receives generous offers from an elderly Icelandic Casanova and an eccentric American. However, as the competition for eternal penile preservation heats up between the two men, Siggi soon discovers that this process is more complicated than it initially appeared. In their debut feature film, Jonah Bekhor and Zach Math follow Siggi on his dogged, often emotional quest to complete his exhibition in a peculiar, yet startlingly relatable, story of self-fulfillment and the value of personal legacies (both big and small). (c) Drathouse
Over Your Cities Grass Will Grow (2011)
Starring: Anselm Kiefer, Klaus Dermutz
Sophie Fiennes records Anselm Kiefer, as the 65-year-old world-renowned artist creates a spectacular architectonic landscape. "In 1993 (Kiefer) left his native Germany and settled in Barjac in France, where he bought a derelict silk factory, transforming it into an extraordinary artistic centre... at once the place where his paintings and sculptures are housed and displayed, and a colossal, evolving architectural artwork in itself. Fiennes begins by roaming through the tunnels and corridors of his studio-network: huge, disorienting shapes and forms loom, composed of earth and mud. There are giant, organic pillars, like stalagmites or termite mounds, a visual or conceptual rhyme to the towers built outside... Fiennes's emphases are almost abstract: color, light, texture, form - and to these, she adds sound, using the music of Jorg Widmann and Gyorgy Ligeti. Anselm's studio is a place where real, hard work is going on: smelting, sawing and hammering... His artistry looks as if it could be taking place centuries ago, and yet it feels very modern... A deeply serious meditation on artistic practice and expression." - Peter Bradshaw, The Guardian (UK) --(C) Alive Mind
The Beatles: Eight Days a Week - The Touring Years (2016)
Starring: Paul McCartney, Ringo Starr, John Lennon
We all know the moment. February 9th, 1964, 8:12pm EST - after a brief commercial break, four young men from Liverpool step onto the Ed Sullivan stage, changing culture forever. Seventy-three million people watched The Beatles perform that night, the largest audience in television history. It was an event that united a nation and signaled the birth of youth culture as we know it today. But while this single performance introduced The Beatles to America, what the band did next would introduce them to the entire world, permanently transforming the music industry and forever engraining them into the fabric of popular culture... They went on tour. By the time the band quit touring in August of 1966, they had performed 166 concerts in 15 countries and 90 cities around the world. The cultural phenomenon their touring helped create, known as "Beatlemania," was something the world had never seen before and, arguably, hasn't since. It was the first time much of the world felt truly unified - bound by aspiration and attitude, rather than divided by race, class, religion or nationality. THE BEATLES LIVE FILM PROJECT will tell the story of the band's exceptional touring years - from the perspectives of the band, its world, the fans, and their world. It will examine the impact of those years on each of The Beatles - the toll that touring took on their relationships and the effect it had on their musical evolution, as well as the colossal boost the tours gave to their lifestyle and fame. But while the band created the spark, it was young people around the world who created the firestorm. The film will also explore the incomparable electricity between performer and audience that turned the music into a movement - a common experience into something sublime.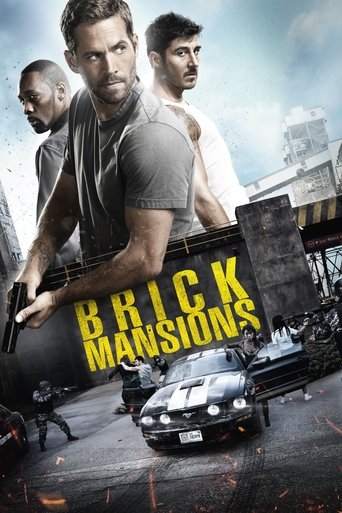 Brick Mansions (2014)
Starring: Paul Walker, David Belle, The Rza
In a dystopian Detroit, abandoned brick mansions left from better times now house only the most dangerous criminals. Unable to control the crime, the police constructed a colossal containment wall around this area to protect the rest of the city. For undercover cop Damien Collier (Paul Walker) every day is a battle against corruption. For Lino (David Belle), every day is a fight to live an honest life. Their paths never should have crossed, but when drug kingpin, Tremaine (RZA) kidnaps Lino's girlfriend, Damien reluctantly accepts the help of the fearless ex-convict, and together they must stop a sinister plot to devastate the entire city. With stylized action featuring thrilling Parkour stunts (David Belle is the co-founder of this physical training discipline), Brick Mansions puts an entertaining twist on the action genre. (c) Relativity
Spiders (2013)
Starring: Christa Campbell,Patrick Muldoon,William Hope,Jon Mack,Christian Contreras
SPIDERS centers on mutant spiders that fall to earth from a disabled Soviet space station. With New York City threatened to be overrun, it's up to transit supervisor Jason Cole and health inspector Rachel Cole to save their daughter and prevent the colossal Queen Spider from uniting with her eggs and creating an army of massive killer spiders. (c) Millennium Entertainment
Spiders (2013)
Starring: Patrick Muldoon,Christa Campbell,Shelly Varod,William Hope,Sydney Sweeney
SPIDERS centers on mutant spiders that fall to earth from a disabled Soviet space station. With New York City threatened to be overrun, it's up to transit supervisor Jason Cole and health inspector Rachel Cole to save their daughter and prevent the colossal Queen Spider from uniting with her eggs and creating an army of massive killer spiders. (c) Millennium Entertainment
We're Not Broke (2012)
Starring:
America is in the grip of a societal economic panic. Lawmakers cry "We're Broke!" as they slash budgets, lay off schoolteachers, police, and firefighters, crumbling our country's social fabric and leaving many Americans scrambling to survive. Meanwhile, multibillion-dollar American corporations like Exxon, Google and Bank of America are making record profits. And while the deficit climbs and the cuts go deeper, these corporations, with intimate ties to our political leaders, are concealing colossal profits overseas to avoid paying U.S. income tax. We're Not Broke is the story of how U.S. corporations have been able to hide over a trillion dollars from Uncle Sam, and how six fed-up Americans from across the country, take their frustration to the streets...and vow to make them pay. -- (C) Official Site
Secrets of a Psychopath (2014)
Starring: Kari Wuhrer,Mark Famiglietti,Mia Serafino,Ty Fanning,Hilary Anderson
Two siblings lure unsuspecting victims to their house through a dating site for games and slaughter. It's "Psycho" meets the Craigslist Killer. The new film from cult director Bert I. Gordon - The Amazing Colossal Man, Earth vs the Spider, Empire of the Ants, and The Food of the Gods.
Barbie in Rock 'N Royals (2015)
Starring: Kelly Sheridan,Chiara Zanni,Bethany Brown,Devyn Dalton,Michael Dobson
In this release Barbie stars as Princess Courtney, a beautiful royal who switches places with Erika, a rock superstar. When the girls are sent to rival camps they must learn to have fun adjusting to their new roles while trying to correct their colossal mix-up.