Movie Results For: phenomena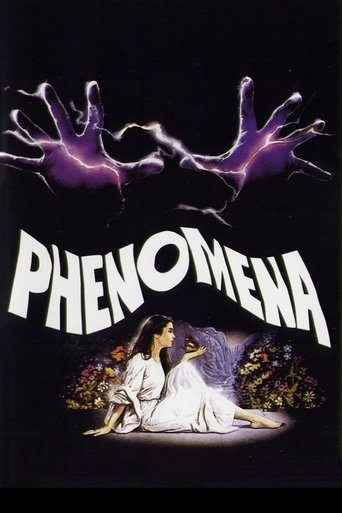 Phenomena (Creepers) (1985)
Starring: Jennifer Connelly, Daria Nicolidi, Donald Pleasence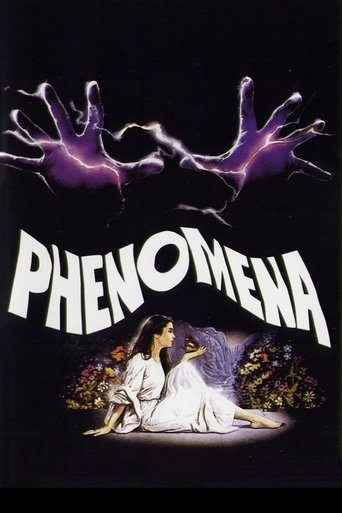 Phenomena (Creepers) (1985)
Starring: Jennifer Connelly,Daria Nicolidi,Donald Pleasence,Daria Nicolodi,Patrick Bauchau
The Social Network (2010)
Starring: Jesse Eisenberg, Andrew Garfield, Justin Timberlake
"The Social Network" explores the moment at which Facebook, the most revolutionary social phenomena of the new century, was invented -- through the warring perspectives of the super-smart young men who each claimed to be there at its inception. The result is a drama rife with both creation and destruction; one that audaciously avoids a singular POV, but instead, by tracking dueling narratives, mirrors the clashing truths and constantly morphing social relationships that define our time. Drawn from multiple sources, the film captures the visceral thrill of the heady early days of a culture-changing phenomenon in the making -- and the way it both pulled a group of young revolutionaries together and then split them apart.
We Steal Secrets: The Story Of Wikileaks (2013)
Starring: Bradley Manning, James Ball, Michael Hayden
Acclaimed documentarian Alex Gibney (Enron: The Smartest Guys in the Room) takes the reins for this no-holds-barred look at one of the most unusual phenomena of early 21st century media. In 2006, an Iceland-based outfit called The Sunshine Press launched the website WikiLeaks.org. As run by Australian Internet activist Julian Assange, the site's mandate involved regularly publishing top-secret documents and covert information, often regarding governments and their respective military operations. As might be expected, this set off a firestorm between those who admired the organization's bravado and resourcefulness, and those who argued, not unjustly, that the dissemination of data regarding such events as the U.S. war in Afghanistan could put untold numbers of lives at risk. In We Steal Secrets, Gibney relays the story of the WikiLeaks website from the inside, and moves beyond black and white to penetrate a complex network of activity guided by courage and idealism but also allegedly guilty of ethical insensitivity and hypocrisy. ~ Nathan Southern, Rovi
Grave Encounters (2011)
Starring: Sean Rogerson, Juan Riedinger, Ashleigh Gryzko
Lance Preston and the crew of "Grave Encounters", a ghost-hunting reality television show, are shooting an episode inside the abandoned Collingwood Psychiatric Hospital, where unexplained phenomena has been reported for years. All in the name of good television, they voluntarily lock themselves inside the building for the night and begin a paranormal investigation, capturing everything on camera. They quickly realize that the building is more than just haunted - it is alive - and it has no intention of ever letting them leave. They find themselves lost in a labyrinth maze of endless hallways and corridors, terrorized by the ghosts of the former patients. -- (C) Official Site
House In The Alley (2013)
Starring: Thanh Van Ngo,Bao Son Tran,Boch Hang,Bui Xjuan Hai,Phan Thi Mo
Until they lose their baby to a miscarriage, a young couple were happily settling into their new life in their spacious home. After the tragedy, Thao is inconsolable and won't let her baby's body leave the house. Normal life eludes her as terrifying visions undermine her sanity. Her husband, Thanh, experiences strange phenomena around their home and when his wife turns on him, he must race to uncover the secrets of the house in the alley before they lose their sanity and their lives.
House In The Alley (2013)
Starring: Thanh Van Ngo,Bao Son Tran,Boch Hang,Bui Xjuan Hai,Phan Thi Mo
Until they lose their baby to a miscarriage, a young couple were happily settling into their new life in their spacious home. After the tragedy, Thao is inconsolable and won't let her baby's body leave the house. Normal life eludes her as terrifying visions undermine her sanity. Her husband, Thanh, experiences strange phenomena around their home and when his wife turns on him, he must race to uncover the secrets of the house in the alley before they lose their sanity and their lives.
Emergo (Apartment 143) (2012)
Starring: Kai Lennox, Gia Mantegna, Michael O'Keefe
A team of parapsychologists sets out to investigate a series of anomalous phenomena taking place in a newly occupied apartment. Telephone calls with no caller, mysterious shadows, extraordinary light emissions, flying objects, and exploding light bulbs, are some of the events they will face while recording their every step with state-of-the-art technology. Using infra-red filming, digital photography, psychophonic recordings, movement detectors, and magnetic field alteration meters, the group's attempts to contact the "other side" will grow increasingly dangerous as they near a point of no return... -- (C) Magnolia
Red Lights (2012)
Starring: Cillian Murphy, Robert De Niro, Sigourney Weaver
Veteran paranormal researchers Dr. Margaret Matheson (Sigourney Weaver) and Tom Buckley (Cillian Murphy) debunk fraudulent claims of ghost whispering, faith healing and other psychic phenomena by detecting what Matheson calls "red lights," the subtle tricks behind every staged supernatural occurrence. But when the legendary blind psychic Simon Silver (Robert De Niro)comes out of retirement after 30 years, his once-fearless adversary Matheson warns Buckley to back off, fearing reprisal from the powerful Silver. Determined to discredit Silver, Buckley and his star student (Elizabeth Olsen) use every tool at their disposal to uncover the truth behind the charismatic, spoon-bending, mind reader. But Buckley is forced to reexamine his own core beliefs as his quest builds to a mind-blowing conclusion in this taut psychological thriller from award-winning writer and director Rodrigo Cortes. -- (C) Official Site
The Dyatlov Pass Incident (Devil's Pass) (2013)
Starring: Holly Gross, Matt Stokoe, Luke Albright
Fact: In February of 1959, nine Russian hikers ventured into a remote area of the Ural Mountains in Russia. Fact: Two weeks later, all nine were found dead. What happened to them is a mystery that has baffled investigators and researchers for decades. It has become known as the Dyatlov Pass Incident. Rumors have attributed their deaths to everything from alien encounters and government conspiracies to supernatural causes. To date, no one has been able to adequately explain what drove nine experienced hikers from their tents so frantically that they ripped through the material from the inside; or how their bodies came to be exposed to such dangerous amounts of radiation that it was still detected weeks later. And no one knows why they were discovered hundreds of yards from their camp, half dressed and with internal injuries including broken ribs and fractured skulls, but with no external wounds at all. The body of one young woman was even missing her tongue. Present Day: Five ambitious American college students are issued a grant to return to the site of the original events in the belief that they can uncover and document the truth of what happened at Dyatlov's Pass. But what they find is more shocking than anything they could have imagined. Their trek through the Ural Mountains, retracing the steps of that ill-fated journey, is plagued by strange and increasingly terrifying phenomena, all of which suggest that in spite of their desolate surroundings, they are not alone. The forces behind the Dyatlov Pass Incident have been waiting for them. The students' recently recovered footage - the only clue to what happened to them - was deemed too disturbing for public eyes. But, like everything else connected to Dyatlov's Pass, the truth has found its way out. (c) IFC Films
I Dream of Wires (2014)
Starring:
"I Dream of Wires" (IDOW) is an upcoming, independent documentary film about the phenomenal resurgence of the modular synthesizer - exploring the passions, obsessions and dreams of people who have dedicated part of their lives to this esoteric electronic music machine. IDOW is written and directed by Robert Fantinatto with Jason Amm (Ghostly International recording artist Solvent) serving as producer and co-writer. Inventors, musicians and enthusiasts are interviewed about their relationship with the modular synthesizer - for many, it's an all-consuming passion. Established musicians such as Trent Reznor (Nine Inch Nails), Carl Craig and John Foxx show off their systems and explain why they opt to use this volatile but ultimately rewarding technology. Meanwhile, a new generation of dance and electronica artists including Clark, James Holden and Factory Floor explain why they've stepped away from laptops to embrace the sound and physicality of modular synthesizers. Innovative companies like Modcan and Doepfer, driven by a desire to revive modular synthesizers, discuss how they planted the seeds that have now grown into a major cottage industry. What started out as a "vintage-revival scene" in the '90s has grown into an underground phenomena with a growing market of modular obsessives craving ever more wild and innovative sounds and interfaces. Today, the modular synthesizer is no longer an esoteric curiosity or even a mere music instrument - it is an essential tool for radical new sounds and a bonafide subculture.(c) Official Site
Mumford & Sons: Live From South Africa - Dust and Thunder (2016)
Starring:
When Mumford & Sons discussed the idea of touring South Africa, it struck them as an uncharted, mini adventure. They would announce a handful of gigs and see who showed up. No pressure. 5000 tickets went on sale, 5000 tickets sold out instantly. 85,000 ticket sales later, and the band were embarking on more than a little adventure. Overnight it had become a fully blown phenomena. Dust and Thunder chronicles the meeting of South Africa with their long-standing favourites, Mumford & Sons. A British band in huge demand, and a country extremely excited to welcome them. With a coachload of their close musical friends brought along for the ride, this exquisitely shot film captures the tour's conclusion with two nights at the beautiful Monument Amphitheatre, outside Pretoria. Airing new songs from Wilder Mind and the Johannesburg mini-album (a collaboration with Baaba Maal, The Very Best and Beatenberg) for the first time, and watching the expansive crowds hollering back the old favourites, Dust and Thunder gets to the very heart of what makes Mumford & Sons such a special act, with the stunning beauty of the Pretorian outback as their backdrop. Captured with gusto by award-winning live specialist Dick Carruthers, the result is an exciting and emotional document and a truly spectacular concert film that may well go down as their finest.
3 A.M. (2014)
Starring: Suzy Sparacio, Cassie Prena, Ayal Stern
In this supernatural shocker based on actual events, a young man begins to question his entire concept of reality after experiencing a disturbing encounter with a malevolent entity. When Kenny claims that a ghost appears in his room every night at 3 a.m., his best friend Michael thinks it's all part of an elaborate joke. Michael's belief in the unknown is forever cemented, however, when he stops by Kenny's place for a late-night visit and experiences the frightening phenomena firsthand. In the wake of his otherworldly encounter, Michael begins to notice the number three everywhere he goes. The following night, Michael's skeptical younger sister shows up to see the spook show and the two siblings find themselves pursued by forces beyond their comprehension. It's soon revealed that the number three is in fact a warning for a lost love, a girl who will meet her doom on September 3rd. Now, in order to save the unsuspecting girl, Michael will be forced to stand-up and face his own dark past.
Where Do People Go When They Die? (2010)
Starring: David Cerullo
Where Do People Go When They Die? The people are real. Their stories are real. What will YOU believe? Is there life after death? Is there really a Heaven and hell? Can science confirm the testimonies of people who've returned from the dead? This must-see film explores these hard questions with shocking answers from real people who've had bone-chilling near- and beyond-death encounters. You'll get to see gripping deathbed visions, stunning near-death experiences, out-of-body encounters, visits to heaven and hell and more. Watch as paranormal experts explain these supernatural phenomena! You'll be riveted by true stories from celebrities including Sharon Stone, Chevy Chase, George Foreman, Jane Seymour, and others, who have gone to the other side and lived to tell about it!
35 Cows and a Kalashnikov (2015)
Starring:
35 COWS AND A KALASHNIKOV is a film about African pride. Directed by Oswald von Richthofen and produced by Roland Emmerich, two old film school friends. It is not a classical documentary about Africa. No boy soldiers. No hunger. No safaris. But rather a poetic tribute to the eternal beauty and sublime strength of the continent. An homage to the Surma tribe of Southern Ethiopia, the dandy movement of Brazzaville, and the voodoo wrestlers in Kinshasa. Archaic roots, colonial influence and Western phenomena, all exist in today's Africa. The filmmakers show three unusual facets of the continent. The result pushes the boundaries of cinematic aesthetics. Bold images and daring editing create a captivating way of storytelling, of poetry. 35 COWS AND A KALASHNIKOV will illuminate your view of the Dark Continent.