Movie Results For: shut+in
Dixie Chicks - Shut Up and Sing (2006)
Starring: Natalie Maines, Emily Robison, Martie Maguire
Dixie Chicks: Shut Up and Sing (2006)
Starring: Natalie Maines,Dixie Chicks,Emily Robison,Martie Maguire,Rick Rubin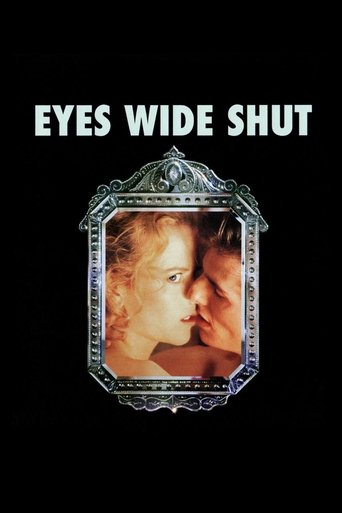 Eyes Wide Shut (1999)
Starring: Tom Cruise, Nicole Kidman, Sydney Pollack
Shut Up Little Man! (2011)
Starring: Eddie Lee Sausage, Mitchell D., Raymond Huffman
When two friends tape-recorded the fights of their violently noisy neighbours, they accidentally created one of the world's first 'viral' pop-culture sensations. Exploring the blurred boundaries between privacy, art and exploitation, Shut Up Little Man! An Audio Misadventure is a darkly hilarious modern fable. -- (C) Official Site
Mission: Impossible Ghost Protocol (2011)
Starring: Tom Cruise, Jeremy Renner, Simon Pegg
This is not just another mission. The IMF is shut down when it's implicated in a global terrorist bombing plot. Ghost Protocol is initiated and Ethan Hunt and his rogue new team must go undercover to clear their organization's name. No help, no contact, off the grid. You have never seen a mission grittier and more intense than this. -- (C) Paramount
Shut Up and Play the Hits (2012)
Starring: LCD Soundsystem, James Murphy, Al Doyle
On April 2nd, 2011, LCD Soundsystem played its final show at Madison Square Garden. LCD frontman James Murphy had made the conscious decision to disband one of the most celebrated and influential bands of its generation at the peak of its popularity, ensuring that the band would go out on top with the biggest and most ambitious concert of its career. The instantly sold out, near four-hour extravaganza did just that, moving the thousands in attendance to tears of joy and grief, with New York Magazine calling the event "a marvel of pure craft" and TIME magazine lamenting "we may never dance again." Shut Up and Play the Hits is simultaneously a document of a once-in-a-lifetime performance and an intimate portrait of Murphy as he navigates both the personal and professional ramifications of his decision. -- (C) Oscilloscope
Shut Up and Play the Hits (2012)
Starring: LCD Soundsystem,James Murphy,Pat Mahoney,Nancy Whang,Alan Doyle
On April 2nd, 2011, LCD Soundsystem played its final show at Madison Square Garden. LCD frontman James Murphy had made the conscious decision to disband one of the most celebrated and influential bands of its generation at the peak of its popularity, ensuring that the band would go out on top with the biggest and most ambitious concert of its career. The instantly sold out, near four-hour extravaganza did just that, moving the thousands in attendance to tears of joy and grief, with New York Magazine calling the event "a marvel of pure craft" and TIME magazine lamenting "we may never dance again." Shut Up and Play the Hits is simultaneously a document of a once-in-a-lifetime performance and an intimate portrait of Murphy as he navigates both the personal and professional ramifications of his decision. -- (C) Oscilloscope
Len and Company (2016)
Starring: Rhys Ifans, Juno Temple, Jack Kilmer
A reclusive music producer (Rhys Ifans) is forced out of his shut-in lifestyle when his former protege (Juno Temple) arrives at his house along with his aspiring musician son (Jack Kilmer). Tim Godsall makes his feature directorial debut with the comedy-drama Len and Company.
Containment (2015)
Starring: Louise Brealey, Lee Ross, Claire Greasley
When Mark, a failed artist estranged from his wife and son, wakes to find the doors and windows of his flat sealed shut. At first, he assumes it's a sick joke. Then he sees mysterious figures outside wearing protective suits - 'Hazmats'. They claim it's for his safety but, as the day wears on and the 'Hazmats' infiltrate the building and begin snatching residents, tempers fray and fear takes over. Together with his neighbors, Mark soon discovers that the real dangers are already sealed in there with them.
Michael Moore In TrumpLand (2016)
Starring: Michael Moore
See the film Ohio Republicans tried to shut down. Oscar-winner Michael Moore dives right into hostile territory with his daring and hilarious one-man show, deep in the heart of TrumpLand in the weeks before the 2016 election.
Madchen in Uniform (Girls in Uniform) (Maidens in Uniform) (1931)
Starring: Emilia Unda,Dorothea Wieck,Hedwig Schlichter,Hertha Thiele,Ellen Schwannecke
Fire In The Night (2013)
Starring:
7 Days in September (2002)
Starring:
Blood in the Mobile (2011)
Starring:
Arrugas (Wrinkles) (2012)
Starring: Martin Sheen,Matthew Modine,George Coe,Laurie Fraser,Tacho Gonzalez
Based on Paco Roca's comic of the same title (2008 National Comic Prize), WRINKLES is a 2D animated feature-length film for an adult audience. Wrinkles portrays the friendship between Emilio and Miguel, two aged gentlemen shut away in a care home. Recent arrival Emilio, in the early stages of Alzheimer, is helped by Miguel and colleagues to avoid ending up on the feared top floor of the care home, also known as the lost causes or "assisted" floor. Their wild plan infuses their otherwise tedious day-to-day with humour and tenderness, because although for some their lives is coming to an end, for them it is just beginning. (c) Gkids