Movie Results For: the+best+of+whose+line+is+it+anyway
Whose Life Is It Anyway? (1981)
Starring: Richard Dreyfuss,John Cassavetes,Christine Lahti,Bob Balaban,Kenneth McMillan
Warsaw Uprising (2014)
Starring: Piotr Adamczyk,Miroslaw Baka,Jeff Burrell,Magda Celowna,Joanna Osyda
arsaw Uprising" is probably the world's first war documentary film made entirely from original archive materials. It tells the story of the Warsaw Uprising of 1944 through the eyes of US airman and two young reporters, witnesses to insurgent fighting. It uses authentic newsreels filmed in August of 1944. Applying modern technology of restoring, colorization and expertize of speech readers and ensuring the co-operation of the best artists, the "Warsaw Uprising" has no comparable project in the World. arsaw Uprising" is probably the world's first war documentary film made entirely from original archive materials. It tells the story of the Warsaw Uprising of 1944 through the eyes of US airman and two young reporters, witnesses to insurgent fighting. It uses authentic newsreels filmed in August of 1944. Applying modern technology of restoring, colorization and expertize of speech readers and ensuring the co-operation of the best artists, the "Warsaw Uprising" has no comparable project in the World. arsaw Uprising" is probably the world's first war documentary film made entirely from original archive materials. It tells the story of the Warsaw Uprising of 1944 through the eyes of US airman and two young reporters, witnesses to insurgent fighting. It uses authentic newsreels filmed in August of 1944. Applying modern technology of restoring, colorization and expertize of speech readers and ensuring the co-operation of the best artists, the "Warsaw Uprising" has no comparable project in the World. (C) Official Site
In the Line of Fire (1993)
Starring: Clint Eastwood, John Malkovich, Rene Russo
Who's Camus Anyway? (2005)
Starring: Hirotaro Honda,Hinano Yoshikawa,Tomorowo Taguchi,Tetsuji Tamayama,Meisa Kuroki
Who's Camus, Anyway? (Kamyu nante shiranai) (2005)
Starring: Hirotaro Honda,Hinano Yoshikawa,Tomorowo Taguchi,Tetsuji Tamayama,Meisa Kuroki
Upside Down: The Creation Records Story (2010)
Starring: Alan McGee, Noel Gallagher, Bobby Gillespie
Over a quarter of a century since it began and a decade after it folded, this is a documentary about Creation Records, one of the world's most successful and colourful independant labels. This however is far more than a run of the mill music documentary, this is the story of the rock and roll dream and its accompanying nightmares.
Taxi (2015)
Starring: Jafar Panahi,Rosalie Thomass,Peter Dinklage,Leonardo Arivelo,Stipe Erceg
Because ALEX has no idea what they should do with their lives, it is the mid-80s in Hamburg taxi driver. The sound of the 80's tough, the pubs dark and noisy, there is plenty of sex, it is constantly smoked, and not just cigarettes.
The Wedding Video (2014)
Starring: Lucy Punch,Robert Webb,Rufus Hound,Miriam Margolyes,Michelle Gomez
When Raif is asked to be the best man at his brother Tim's high society British wedding, he decides to make a no-holds-barred documentary of everything that happens leading up to the big day and give it as a gift to the happy couple. As the moment of matrimony approaches, nothing seems to be going according to plan, leaving the bride and groom to wonder: "Whose wedding is this anyway?" Filled with a colorful and hilarious cast of characters, this is one wedding you won't soon forget!
Sunshine on Leith (2013)
Starring: George MacKay, Kevin Guthrie, Freya Mavor
This film is a jubilant, heartfelt musical about the power of home, the hearth, family and love. It is the tale of one tight-knit family, and the three couples bound to it, as they experience the joys and heartache that punctuate all relationships. And they do it all while singing to the euphoric music of The Proclaimers.
Uzumasa Limelight (2014)
Starring: Chihiro Yamamoto, Hirotaro Honda, Hisako Manda
Uzumasa (Kyoto) is considered the Hollywood of Japan. It has produced many "jidaigeki" films (dramas with sword fighting) that are loved by many Japanese, and are highly praised all over the world. These films wouldn't be what they were if it weren't for the "kirareyaku" (actors whose is to be killed by the lead star). Men who are killed, without ever being lit by the limelight. This story is about those men, the unsung heroes of classic jidaigeki films. They loved and respected the art, even when the production of classic jidaigeki films began to dwindle. Using Charlie Chaplin's "Limelight" as an underlying theme, the admirable story of these men dealing with a new generation and fading craftsmanship is told with melancholy and soul.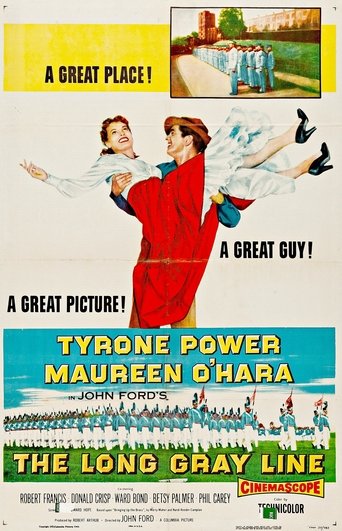 The Long Gray Line (1955)
Starring: Tyrone Power, Maureen O'Hara, Robert Francis
The Long Gray Line (1955)
Starring: Tyrone Power,Maureen O'Hara,Robert Francis,Ward Bond,Donald Crisp
The Thin Blue Line (1988)
Starring: Derek Horton, Ron Thornhill, Marianne Leone
The End of the Line (2009)
Starring: Charles Clover,Jeffrey Hutchings,Callum Roberts,Daniel Pauly,Dr. Boris Worm
The End of the Line (2009)
Starring: Charles Clover,Callum Roberts,Jeffrey Hutchings,Daniel Pauly,Dr. Boris Worm