Movie Results For: the+exterminating+angel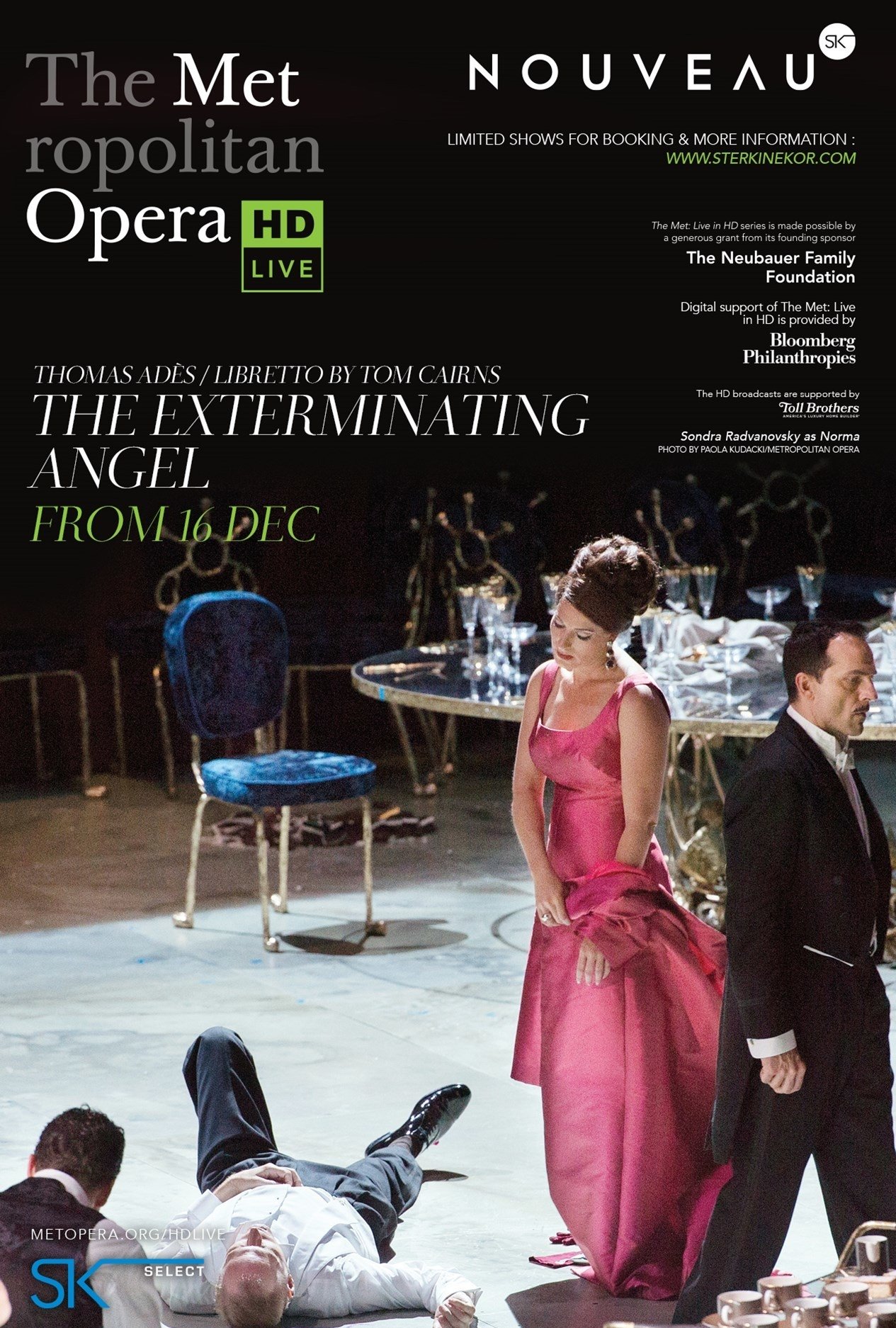 The Exterminating Angel: Met Opera Live (2017)
Starring: Frédéric Antoun, Sophie Bevan, Kevin Burdette, Alice Coote, Iestyn Davies, Amanda Echalaz, Rodney Gilfry, Joseph Kaiser, Audrey Luna, Sally Matthews, David Adam Moore, David Portillo, Christine Rice, John Tomlinson, Christian van Horn
Following the rapturous response to his last opera, The Tempest, the Met presents the American premiere of Thomas Adès's The Exterminating Angel, inspired by the classic Luis Buñuel film of the same name. Hailed by the New York Times at its 2016 Salzburg Festival premiere as "inventive and audacious … a major event," The Exterminating Angel is a surreal fantasy about a dinner party from which the guests can't escape. Tom Cairns, who wrote the libretto, directs the new production, and Adès conducts his own adventurous new opera.
The Exterminating Angel (1962)
Starring: Silvia Pinal, Enrique Rambal, Claudio Brook, José Baviera, Augusto Benedico, Antonio Bravo, Jacqueline Andere, César del Campo, Rosa Elena Durgel, Lucy Gallardo, Enrique Garcia Alvarez, Ofelia Guilmáin, Nadia Haro Oliva, Tito Junco, Xavier Loyá, Xavier Massé, Ofelia Montesco, Luis Beristáin, Patricia Morán, Patricia de Morelos, Bertha Moss, Eric del Castillo, Janet Alcoriza, Florencio Castelló, Arturo Cobo, Pancho Córdova, Enrique del Castillo, Elodia Hernández, Luis Lomelí, Chel López, Guillermo Álvarez Bianchi, Daniel Arroyo, Rubén Márquez, Victorio Blanco, Ángel Di Stefani, Juan Antonio Edwards, Jesús Gómez, Fernando Yapur, Rita Macedo, Ángel Merino, Roberto Meyer
The guests at an upper-class dinner party find themselves unable to leave. The Exterminating Angel is a 1962 surrealist film, written and directed by Luis Buñuel, starring Silvia Pinal. Sharply satirical and allegorical, the film contains a view of human nature suggesting "mankind harbors savage instincts and unspeakable secrets". It is considered one of the best 1,000 films by The New York Times.
The Exterminating Angels (2006)
Starring: Frédéric van den Driessche, Maroussia Dubreuil, Lise Bellynck, Marie Allan, Sophie Bonnet, Raphaële Godin, Margaret Zenou, Jeanne Cellard, Virginie Legeay, Estelle Galarme
François, a French director, is conducting a rather unorthodox casting. He tries to understand how women desire and especially how they get pleasure. But by getting too close to their fire, he hasn't sensed the Angels coming.